Serving at risk populations: from Washington Free Clinic to Whitman-Walker Health
Over its 250 years history, Georgetown Lutheran Church has served many needs in the community. But perhaps no ministry has had a longer lasting legacy beyond our congregation than opening our doors to a free clinic in 1968.
It is easy to think of Georgetown as a leafy neighborhood, isolated from social changes, but this was not the case in 1968. While the area was not significantly affected by the
riots that followed the assassination of Dr. Martin Luther King, Jr
. in April, it was home to a lot of disaffected youth. Social issues were emerging, including gay rights and the fight against racism. The picture below shows a
rally on racial issues
held only a few days after Dr. King's assassination on April 3, 1968 at Volta Park, a few yards away from Georgetown Lutheran Church.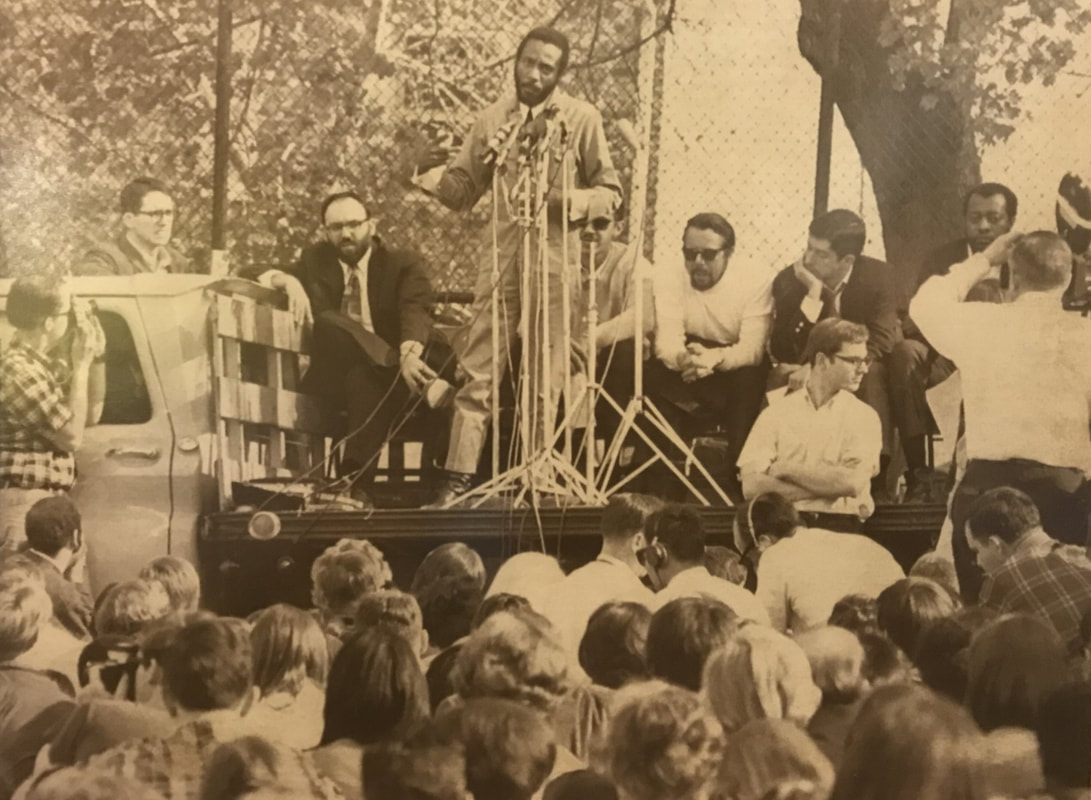 Educational rally on racism at Volta Park, sponsored by the Center for Emergency Support and the Washington Ad Hoc Committee on Urban Problems (photo courtesy of DC Public Library & Library of Congress via the DC 1968 Project)
It is in this context that the Washington Free Clinic opened on July 1, 1968 in Georgetown Lutheran Church's basement, serving the many runaways and at-risk gay and straight youth then populating Georgetown. It was the second-ever free medical clinic in the country.
Consisting of a waiting room, a counseling room, and an examination room, the Free Clinic was initially open in the evening, six nights a week. One administrator, one doctor (Dr. Stephen Brown), a member of clergy, and one counselor comprised the entire nightly staff in the early days when the Clinic was seeing only three to four patients each evening as it was still building acceptance in the youth community.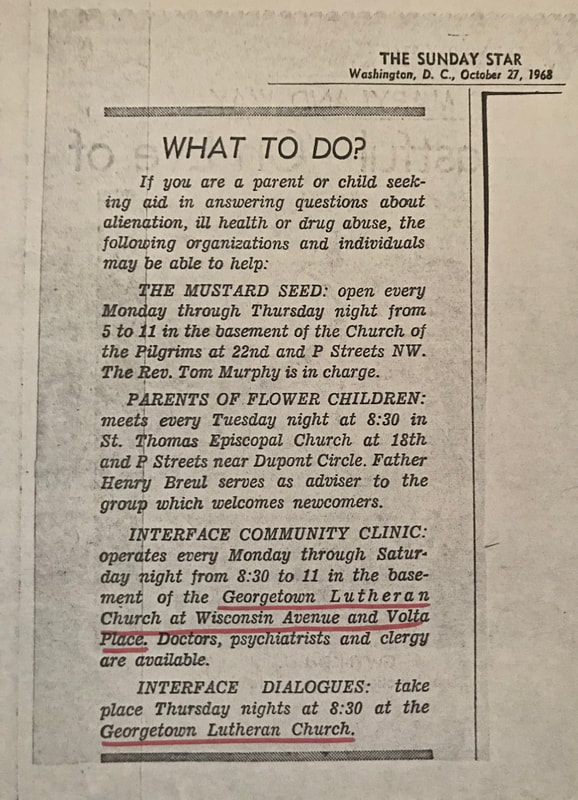 1968 Sunday Star article referencing the clinic and its services
But the patient load gradually grew, and, by January 1969, the Clinic was treating fifteen to twenty people each night. As the Free Clinic became a viable community facility, more and more resources became available. Private physicians and church groups donated medicines and equipment, and more volunteer doctors and psychiatrists joined the staff, as did nurses, laboratory assistants, pharmacists, social workers, and other professionals.

In turn, Georgetown Lutheran Church allocated more of its basement space to the Clinic, which grew to encompass a large waiting room, four complete examining rooms, a group therapy room, four counseling rooms, an interviewing room, pharmacy, laboratory, and four bathrooms. By 1970, between 60 and 70 patients were treated each evening by a staff of more than 150 clinic volunteers working rotating schedules.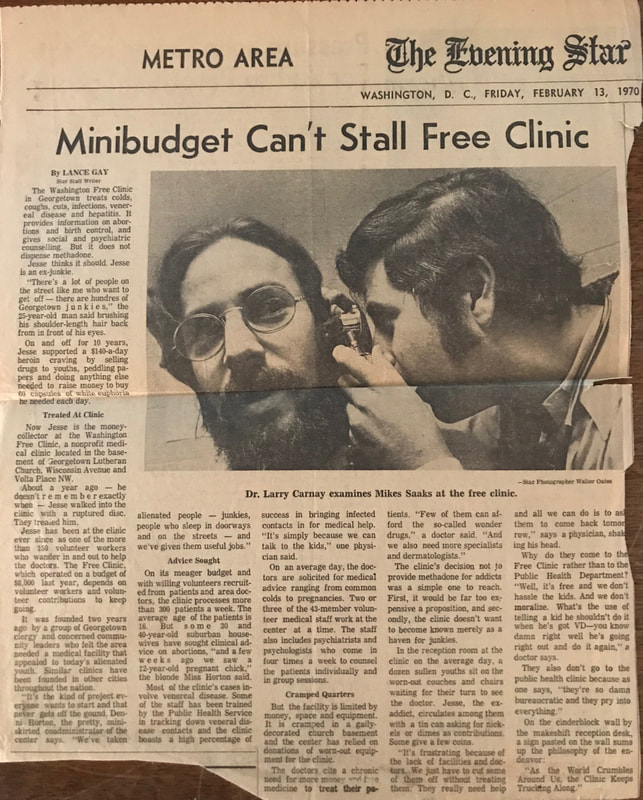 ​1970 Evening Star article on the Washington Free Clinic
In November 1973, the Gay Men's Venereal Disease Clinic began operating as part of the Washington Free Clinic. It was the
first gay and lesbian community medical support organization in the city
. It was able to hire its first full time staff in 1976.
Dr. Richard Digioia
was the VD clinic's doctor, volunteering every Saturday morning to see patients. In 1977, he opened a private practice as the first openly gay physician in Washington, DC.
The VD Clinic split from the rest of the Washington Free Clinic in 1977, and its staff and volunteers began to develop a vision for a new organization. In 1978,
Whitman-Walker Clinic
was chartered, and would go on to play a vital role in the AIDS crisis in the 1980s.
There were a few tensions in the late 1970s between the Free Clinic and Georgetown Lutheran Church, in particular when the church asked the Clinic to start paying rent. The Washington Free Clinic remained at Georgetown Lutheran Church until 1980 when it relocated to St. Stephen's Church. Eventually, in 2007, the Washington Free Clinic merged with the Whitman-Walker Clinic. In 2011, Whitman-Walker Clinic became Whitman-Walker Health.
In case you are wondering, Whitman-Walker Health is named after poet
Walt Whitman
(a former D.C. resident) and
Dr. Mary Edwards Walker
, a noted Civil War-era physician in the District and women's rights activist.