250 years ago: the first church in Georgetown
2019 is a big year for Georgetown Lutheran Church (GLC) as we celebrate the 250th anniversary of our founding in 1769. This makes us the oldest church in Georgetown, and the second oldest in the District of Columbia, after St Paul's Rock Creek Church, an Episcopalian congregation established in 1712.
​
So how did we get started? In 1769, two landowners, Charles Beatty and George Frasier Hawkins, deeded part of a tract of
land
called Knaves' Disappointment for the enlargement of Georgetown. There were 304 lots of land in total, most of which were to be auctioned. But four of these lots were earmarked for public use: one for a Church of England church building, one for a Calvinist church, one for a Lutheran church, and one for a market house. Only the Lutheran church was built in 1769.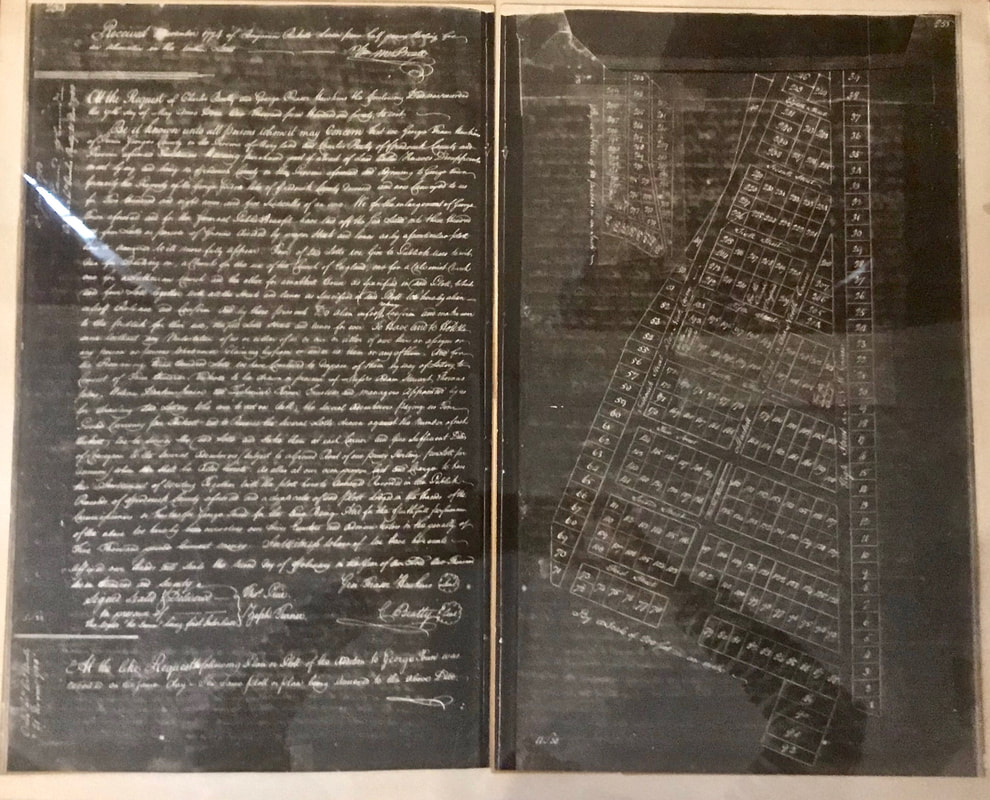 Copy of the 1769 deed and map
Photo credit: Georgetown Lutheran Church
The church was founded by a small German community, which had established a colony north of Georgetown on the banks of Rock Creek. Little is known about the first congregation members, and they did not yet have a permanent pastor.

It is difficult today to imagine what Georgetown (then called George Town) looked like in the late 1760s. Most of the buildings of "Old Georgetown" that have been preserved date back to the early nineteenth century, or the very end of the eighteenth century, after the Revolutionary War.

Georgetown began as a small settlement in the 1740s, serving primarily as a port exporting Virginia tobacco to England and Scotland. The first building recorded to have been erected was an inspection warehouse for cargo, and
tobacco merchants

petitioned the colony of Maryland for the creation of a town. This was done in 1751. The map below dates from that time and shows Georgetown barely expanding from its waterfront. Bridge Street corresponds to present-day M Street and High Street to Wisconsin Avenue.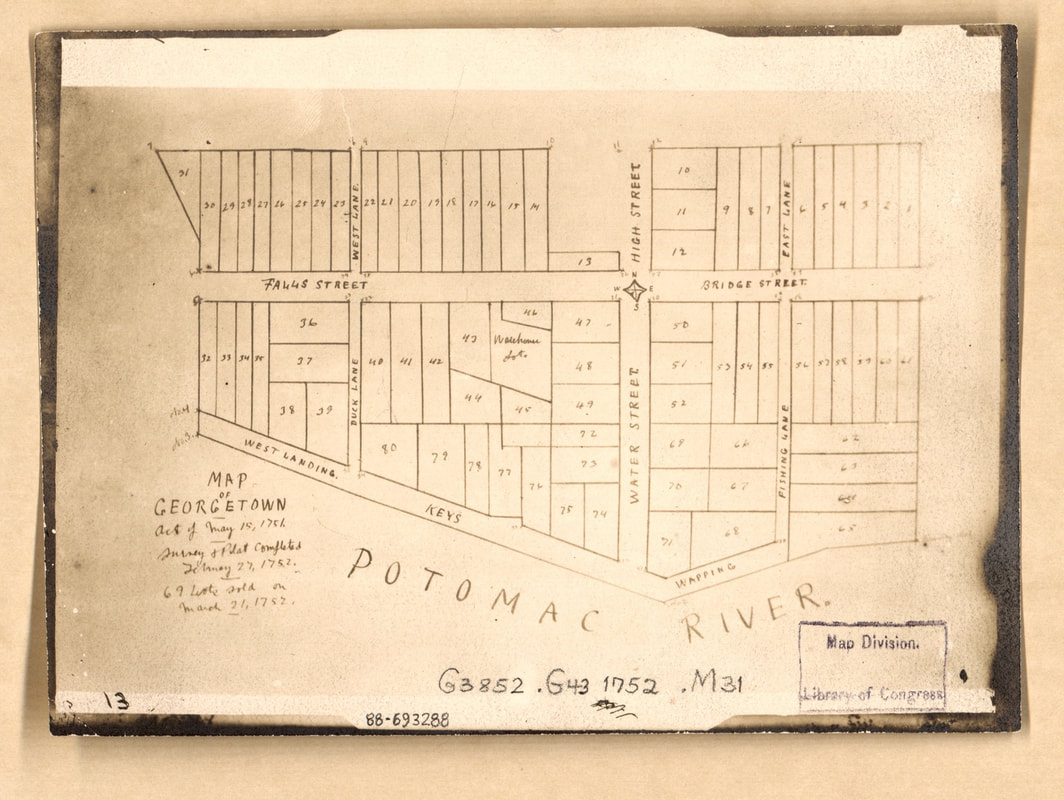 Map of Georgetown in 1751
Library of Congress
But the town soon began to grow. In 1751, the first tavern opened, soon to be followed by two more, which served as the center of all activity. In 1752, land belonging to Scottish tobacco merchants George Gordon and George Beall was auctioned as eighty lots, which were used to build warehouses and other businesses, as well as houses. The other big activity after tobacco export was milling flour from Virginia and Maryland. And where there is business, there are lawyers: Francis Scott Key's father,
John Ross Key, and his uncle,

Philip Barton Key, both had law offices in Georgetown. Slavery was part of the economy, and there are records of one

John Beattie

who traded in enslaved labor for tobacco plantations, other plantations and businesses. His

auction block

was located at the present corner of 32nd and O Streets.

Georgetown's early inhabitants were diverse: most of the merchants were of Scottish origin, but there were also

enslaved people

and free black men working on the harbor. Although we lack census records, the population was small, estimated at 1,000-2,000 people at most.

Little remains of 1760s Georgetown, with the exception of the

Old Stone House on what is now M Street (then Bridge Street), which was built in 1766.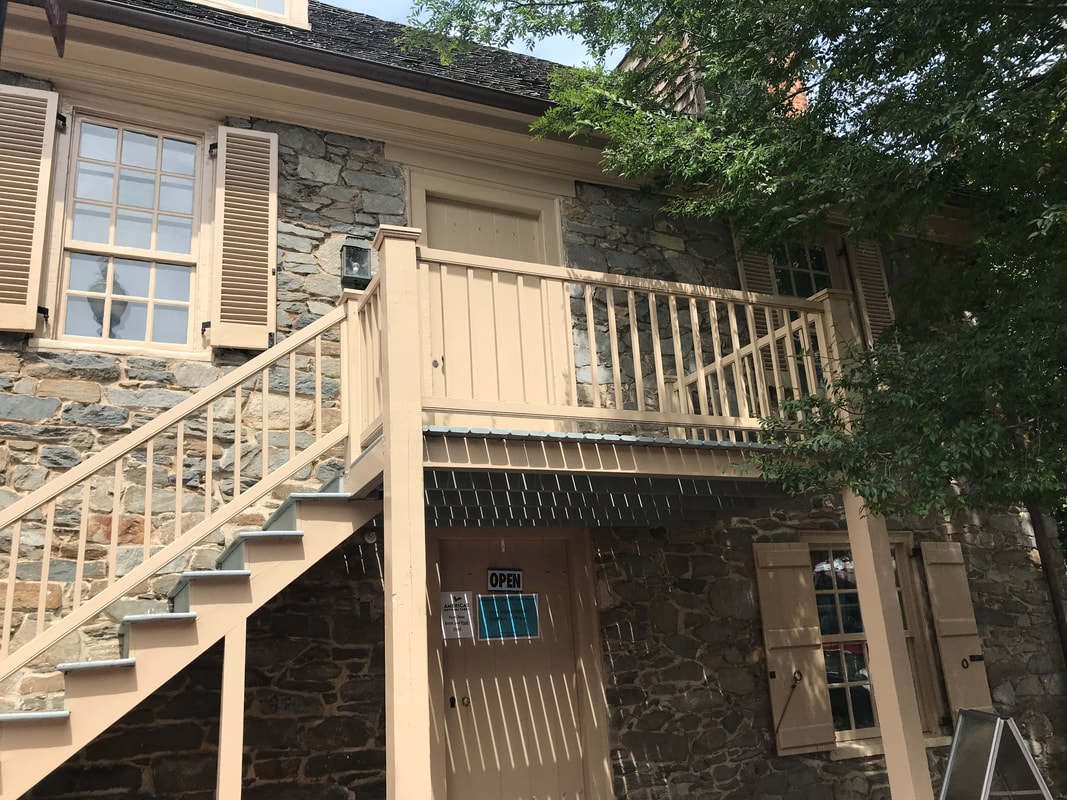 The Old Stone House
Photo credit: Georgetown Lutheran Church
​The original Georgetown Lutheran church is long gone. In the mid-twentieth century, the church commissioned the rendering below, which approximates to the best of our knowledge what our first building looked like. It was a log structure, to which a bell was later added. It is easy to dismiss the structure as small and insignificant, but considering that Georgetown did not get a post office until 1776, or a second church until 1780, the structure would have been a major local landmark in those early days.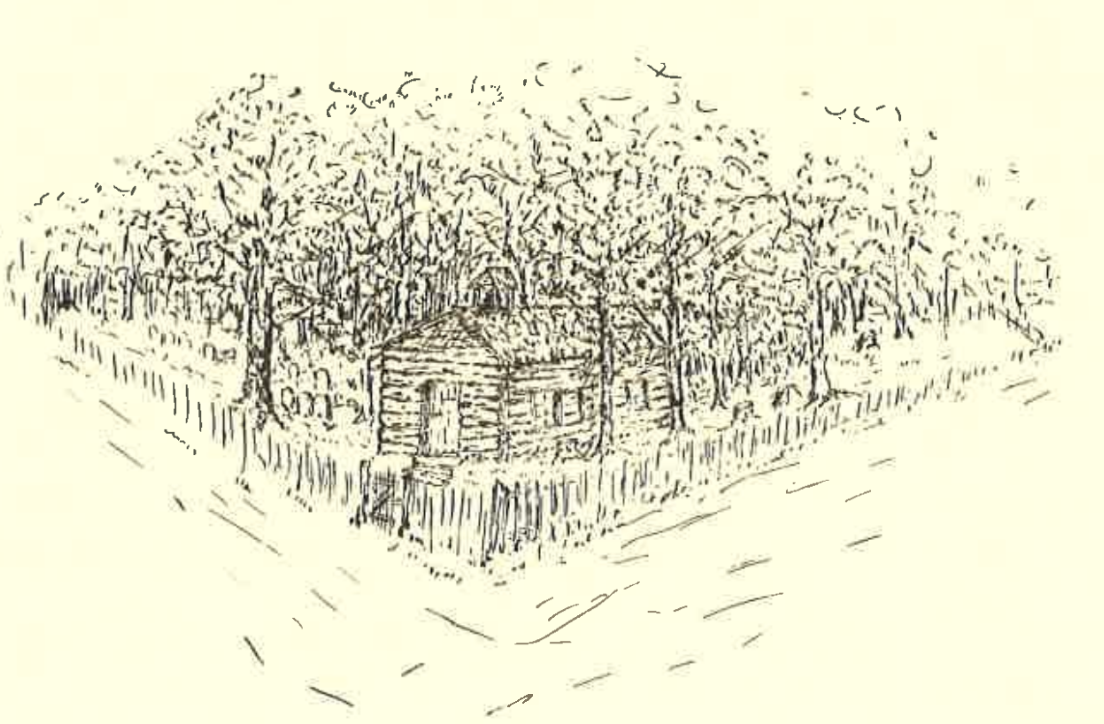 Artist rendition of the original church
Photo credit: Georgetown Lutheran Church
​Our story continues at the corner of Wisconsin Avenue and Volta Place. Please check back in this space to read more about our church and our community.